Seche Vite Non-Yellow Professional Dry Fast Top Coat High Shine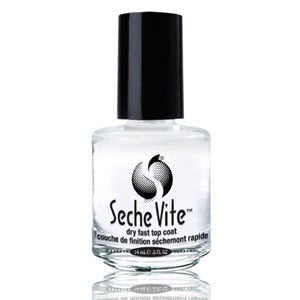 Seche Vite Non-Yellow Professional Dry Fast Top Coat High Shine
$

5.75
Seche Vite Non-Yellow Dry Fast Top Coat High Shine
Seche Vite™ dry fast top coat is widely acknowledged as the world's finest top coat. Specially formulated to penetrate through nail lacquer to the base coat forming a single solid coating over the nail plate for a much more durable finish. Guaranteed not to yellow while leaving nails silky, stronger and resistant to chipping and peeling.
- Easy to apply
- Crack resistant
- Dries quickly
- Exciting, solid, clean color with a semi-gloss finish.
Bottle Size: 0.5 fl oz 15ml
Made in U.S.A.
Please note: we have tried to accurately display the colors of products, the actual colors you see will depend on your monitor and are for reference only.